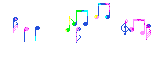 "Unchained Melody"

MOONLIGHT DANCE

He was tall, good looking strong and lean,
She was a sweet young girl, a tiny thing.
She sat under the tree in the pale moonlight
His heart taking notice of the lovely sight.
She looked and saw him standing there,
His hand reaching out to her in the warm summer air.
He pulled her close as they danced into the night,
She was still in his arms at dawn's early light.
He promised his love would never fade,
He made her his own in the shadows' cascade.
It was a short three weeks later she became his bride,
They vowed to always walk side by side.
Every year when it was the first day of June,
He would dance with his girl by the light of the moon.
Many years have passed they both are now gone,
Yet still today this love remains strong,
Take a look at the sky on the first day in June,
Here the haunting sound of a lovely tune.
See them dance together beneath the pale moonlight,
As they dance together 'til dawn's early light.
Don't let this sweet story make you feel sad,
It is just a sweet memory of my Mom and Dad.
ęcopyright Johnnie Oakes
8/06/03